New guidance for 'acid attack' victims following recent rise in attacks
The NHS and leading burns surgeons are today issuing new first aid guidance to help ensure victims of acid attacks get the right help fast.
The assistance for victims comes as new data from NHS England show the number of people requiring specialist medical help for this type of assault is on the rise. In 2014, 16 people required specialist medical advice, rising to 25 in 2015 and increasing further to 32 last year. The level of demand for specialist burns help so far in 2017 suggests there will be another rise in patient numbers this year.
So-called 'acid attacks', where corrosive substances are used as part of a violent assault or robbery, have become increasingly prominent, with a series of high-profile incidents this year. As well as the significant harm caused to individuals, the NHS estimates that the average cost of care for a victim requiring specialist burns treatment, eye care, rehabilitation and mental health treatment is £34,500.
NHS England, in partnership with the British Association of Plastic, Reconstructive and Aesthetic Surgeons (BAPRAS) is today publishing new advice for anyone falling victim to acid attacks, including new online guidance and support to victims as well as friends or family of people affected by burns. The guidance – Report, Remove, Rinse – has been developed with specialist BAPRAS burns and trauma surgeons, who have treated victims of these attacks.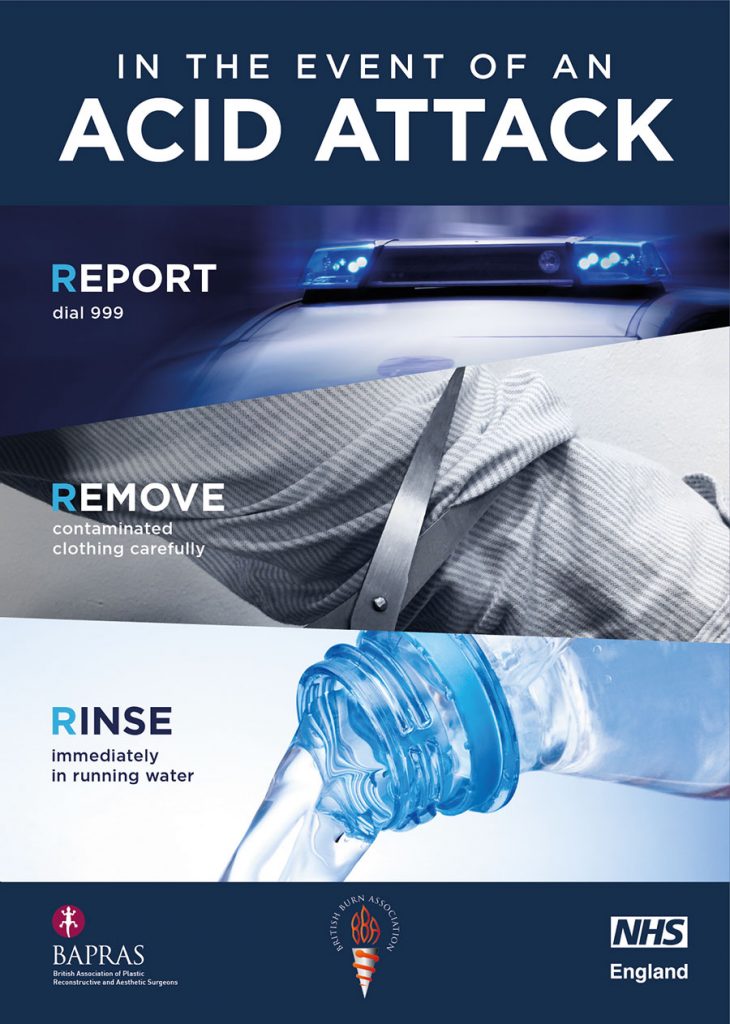 Whilst the overall number of people impacted by this type of attack remains low, people are advised to take three simple steps in the event they witness or are victim of an attack:
Report the attack: dial 999.
Remove contaminated clothing carefully.
Rinse skin immediately in running water.
A burns unit serving patients from London and the South East, has seen a substantial increase in the number of people it has helped this year who have been affected by this type of assault. In 2016 the St Andrew's Burns Centre saw 20 people who required admission because of the most serious effects of acid or corrosive burns, a similar number who were treated there over the previous 15 years. The Centre is on course to deliver help to over 30 people in 2017.
People assaulted with corrosive substances like acid are likely to need a range of different care after the emergency response. This could include therapy, specialist burns treatment, and in some instances eye or plastic and reconstructive surgery. This new guidance for victims published today is designed to help people to understand easily what help is available from the NHS. The guidance also offers help to victims' relatives, who can help people cope with the trauma which can follow an attack.
Professor Chris Moran, National Clinical Director for Trauma at NHS England, said:
"Whilst this type of criminal assault remains rare, the NHS is caring for an increasing number of people who have fallen victim to these cowardly attacks.

"One moment of thoughtless violence can result in serious physical pain and mental trauma, which can involve months if not years of costly and specialist NHS treatment.

"So-called acid attacks are medical emergencies and people should immediately dial 999. We are issuing guidance today that sets out clearly and simply how people can help themselves and others in response to attacks. Our guidance will outline what first steps to take in the event of an attack in those crucial minutes before professional clinical help arrives on the scene."
Whilst making this advice available to the public, NHS England have also partnered with a number of organisations, including police forces, ambulance services and the Royal College of Surgeons to ensure this advice is shared with front-line public service people who are often first on the scene.
Guidance is also available on the NHS Choices website.
Hourly rounding 'may not be the best way for nurses to deliver care', finds study
Hourly rounding places an emphasis on 'tick box' care.
Hourly rounding made a minor contribution, if at all, to the way nurses engage with patients.
A new report by researchers at King's College London has found that the widespread practice of hourly or intentional rounding, may not be the best way for nurses to deliver care to patients.
The report also found that rounding makes a minor contribution, if at all, to the way nurses engage with patients.
Hourly or intentional rounding involves standardised regular checks with individual patients at set intervals and was introduced in hospitals in England in 2013, with 97% of NHS acute Trusts in England implementing it in some way.
The majority of NHS trusts adopted the '4Ps' (Position, Pain, Personal needs, Placement of items) model of rounding.
The research was commissioned and funded by the National Institute for Health Research (NIHR) and was led by Professor Ruth Harris in the Florence Nightingale Faculty of Nursing, Midwifery & Palliative Care.
Hourly rounding places an emphasis on 'tick box' care.
The NIHR report – Intentional rounding in hospital wards to improve regular interaction and engagement between nurses and patients: a realist evaluation – is the first study of its kind in the world.
The study found that rounding placed an emphasis on transactional 'tick box' care delivery, rather than individualised care. However, patients were found to value their interactions with nursing staff, which the study argues could be delivered during other care activities and rather than through intentional rounding.
The report also found that rounding was implemented without consultation, careful planning and piloting in the interests of political expediency following the Francis Inquiry Report into care failures in the NHS.
Ruth Harris, Professor of Health Care for Older Adults at King's College London, said; "Checking patients regularly to make sure that they are OK is really important but intentional rounding tends to prompt nurses to focus on completion of the rounding documentation rather than on the relational aspects of care delivery.
"Few frontline nursing staff or senior nursing staff felt intentional rounding improved either the quality or the frequency of their interactions with patients and their family."
Nurses' 'worry' better than most early warning scores, finds study
Nurses were asked to grade patients between 'no concern' and 'extreme concern'. 
A sense of worry can provide important information for the detection of acute physiological deterioration.
Nurses' worry has a "higher accuracy" than most published early warning scores (EWS) at predicting if a patient is becoming more unwell, according to a recent study.
The study looked at 31,159 patient-shifts for 3185 patients during 3551 hospitalisations across two surgical and two medical wards. Researchers compared if the nurses were worried about a patients potential for deterioration using 'the Worry Factor' with early warning score indicators.
Nurses were asked to grade each patient between "no concern" and "extreme concern".
Out of 492 potential deterioration events identified, researchers found that when nurses had an increasing worry factor the patient was more likely to require emergency medical treatment – 7 cardiac arrest calls, 86 medical emergency calls and 76 transfers to the intensive care unit.
The study also revealed that accuracy rates were significantly higher in nurses with over a year of experience.
The researchers concluded that "nurses' pattern recognition and sense of worry can provide important information for the detection of acute physiological deterioration" and was often more reliable than traditional early warning systems.
They also noted that the worry score could be used alone or easily incorporated into existing EWS to potentially improve their performance.